Right now, ALDI stores (yes, the budget grocery chain) has these "patio umbrella lights" in stock for $7.99 each.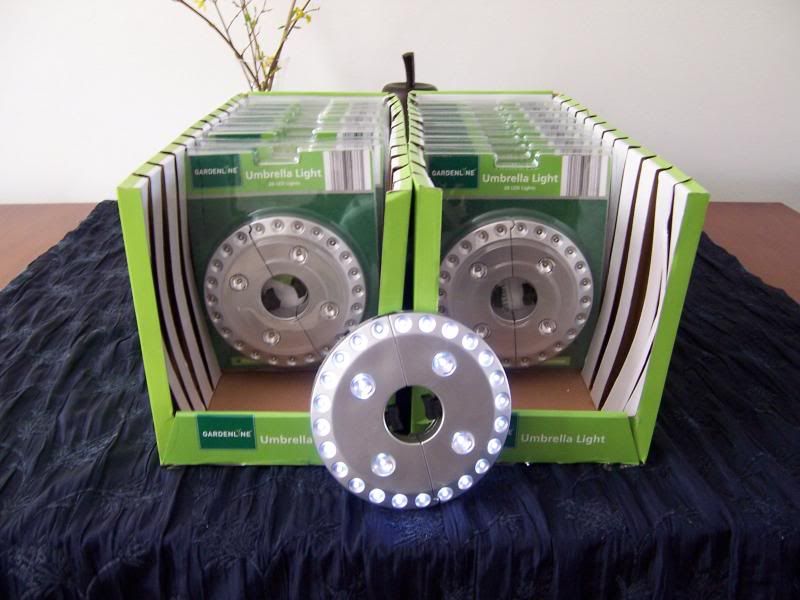 I have previously owned one of these for almost 4 years and they are a.w.e.s.o.m.e. for lighting disc golf baskets. They're super bright and the batteries I put in when I bought it are still working at full power today... after an estimated 300 hours of operation. So, I was very excited when I found them at Aldi again... I bought 18 of them
Anyhow, how they work is that they are split up the middle and have a hinge on one side so you can just clip them around any post. Rubber feet on springs hold them tight to the pole once clipped shut. They take 4 AA batteries and have 28 LEDs that are very, very bright.
So, if you run or play in a league that has night games (or if you plan to do so in the future), these are the best thing I've ever seen for the job. Heck, mine has seen a lot of use and I even use it on the practice basket in my yard quite a bit.
Aldi can be a little flakey about what items are in stock and when, so if you want some, you should go now. you can't beat that price.
WARNING!!!
Do NOT buy any of the ones you find on Amazon or Ebay that look like this! They are total crap! I've tried several of them and they were so bad that I returned them or threw them directly in the trash (because return shipping was just as much as the stupid thing cost). The last one I tried fell apart and broke when I went to put batteries in it... pure garbage. The only ones I've seen that were of a similar quality cost $30. These are $8