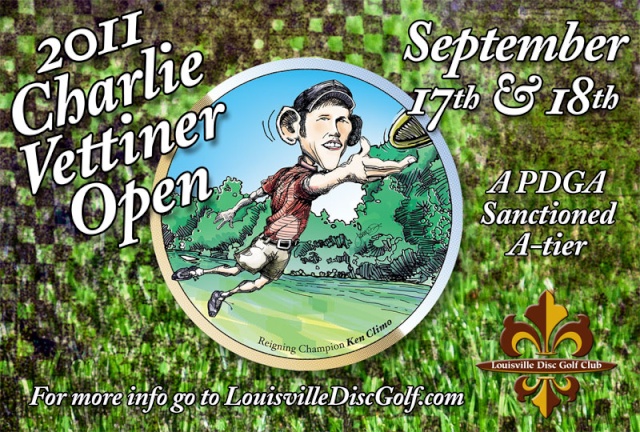 2011 Charlie Vettiner Open
September 17 & 18
Louisville, KY
A PDGA Sanctioned A-tier
Cost & Registration
This tournament is pre-registration only!
You must be PDGA member to play since this is an A-tier.
You can register online at
http://dynamicdiscs.com/regCVO.html
, pay in person at any LDGC league and Adam, Martin, & Judge will take registration.
Open - $100
All Other Pro - $80
Advanced - $60
Intermediate - $40
Recreational - $40
Junior - $20
$5 ace pool
All Am's will receive a big players pack. More info about that to come soon.
Format & Schedule
1 round of 27 holes per day (9 added holes)
Everyone will be split up into two groups and will play at separate times. This will allow the Am's to watch both pro rounds.
Saturday - Pool A
8:30 am - Players Meeting
9:00 am - Tee Off
Saturday - Pool B (estimated times)
1:00 pm - Players Meeting
1:30 pm - Tee Off
Sunday - Pool B
8:00 am - Tee Off
Sunday - Pool A (estimated time)
12:00 noon - Tee Off
Awards Ceremony To Follow
We expect even more touring pro's than last year and even Ams playing in the tournament will be able to watch the pro's both days.
Click here for more info: http://louisvillediscgolf.com/forum/showthread.php?t=4797