Recently I was contacted by someone who wanted to buy an old St. Louis Disc Golf Club disc I had. While talking to him, he said there really wasn't a Club collection of old Club discs. That is very true. We sell off everything, so there won't be a collection of old Club discs other than the personal collections of long-time players who hoard discs. *COUGHbobwaidmannCOUGH*
I'm not really a collector, but I have a few old discs from my St. Louis days. I figured I'd post them, and maybe somebody else will post Club discs they have, and we can start a "virtual collection" of St. Louis-stamped discs.
The first couple feature the hole #16 basket. Hole #16 was the signature shot at Creve Coeur before it flooded.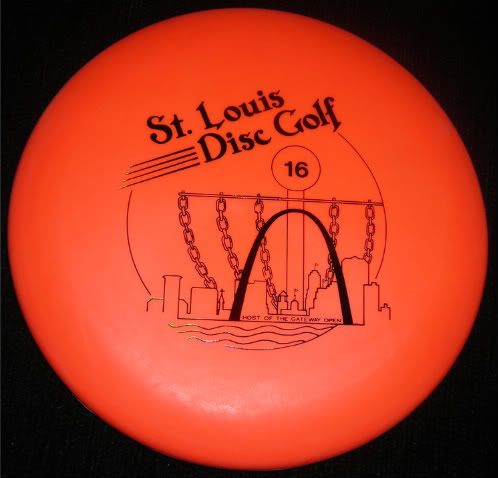 This one has the old Washington 9-holer on it. I think it was called "Big Driver-Little Putter." It was a pay for play course on a site that had a ball golf driving range and putt-putt course. It wasn't around for long.
This disc was from the '98 Gateway Open, which was the big St. Louis event in the 90's. It's kinda cool because it has a hole from the expanded 18 hole layout at Schroeder Park in Manchester we used to use on it. It also has hole # 6 at Sioux Passage from back when it was hole # 7.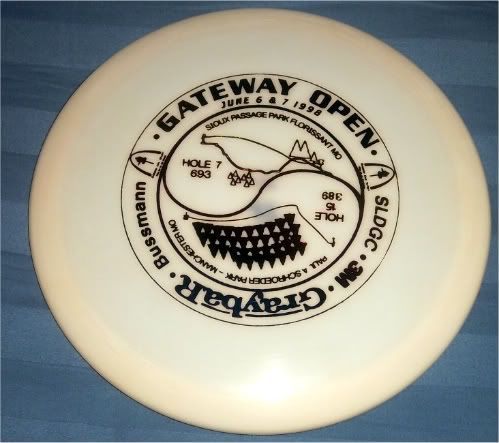 Not a Club disc, but this was the 20th Anniversary White Birch disc. I had a bunch of these at one time, but the only one I have left is a Roc in my bag.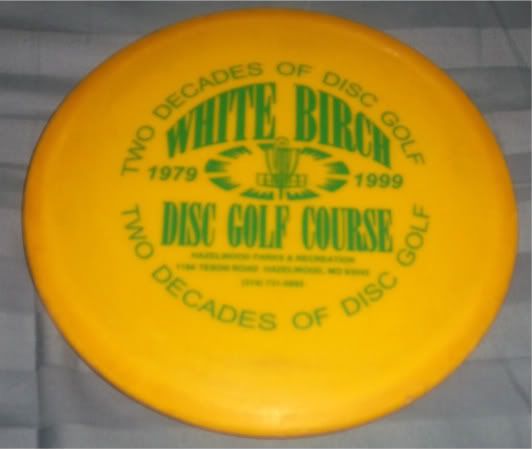 And finally, a joke disc. In '98 we replaced the bridge at White Birch, and in true Hazelwood fashion the maintenance crew screwed the pooch and tore the crap out of everything. Hole # 9 was gone when they were finished, and they didn't get around to fixing it for nearly a year. So we had the White Birch Classic that year with a temp hole and a course that looked like it had been run through a meat grinder. Bob (it's always Bob's fault) said we should get discs and make fun of the situation by calling it the "White Bridge Classic." So, I did. When he saw them, Bob said "You thought I was serious?"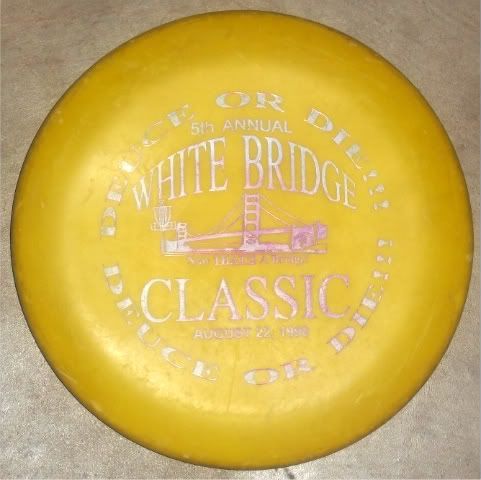 Anyway, that's all I have. I'm sure there are people out there with cooler stuff than this. All it takes is a camera and a flicker account to show them off.