Besides being the name of the best band ever, Hūsker Dū? was the name of a matching game I played as a kid. It means "Do you remember?" in a couple of Scandinavian languages. I thought it was a fitting title, becasue if you don't remember back in the day, you will have no idea why I'm excited about this: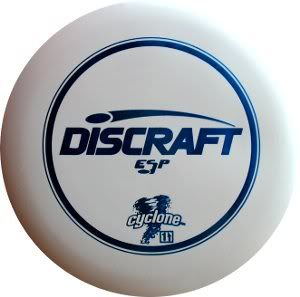 Oh, yes...ESP Cyclones. From what I have heard from early results, they are more stable and more durable than the D Cyclones yet they still have the glide unlike the X and Z Cyclones. In other words, they might be the closest thing to a Tournament Pro Cyclone yet. If you remember, you know that TP Cyclones were
IT
. In the 90's there was no better driver in the game.
So I'm sure it's just me, but this is the second "must try" disc of the year. I'll be giving ESP Cyclones a long look at my control driver slot.