---
2/11/12: Valentine's Massacre Recap

---
After awaking to a crisp morning with a fine dusting of snow on the ground, only one thought was on the mind of the
Valentine's Massacre
event staff and volunteers- "Why, oh why, did we use white paint to mark the OB lines?"
After seeing that the previous week's work on the layout was rendered invisible by the snow cover, folks fanned out to quickly re-mark the various OB lines, islands, drop zones, and etc. in yellow…and, yes- despite what it may have looked like, you can rest assured that all of that "yellow snow" was produced with paint!
As the first round began, it became clear that the all-new "Massacre Layout" wasn't going to be the only thing taking a toll on players' scores and psyches- the whipping winds and frigid February temps added to the challenge of having a "hot round", in all senses of the term. Some navigated the track better than others, of course, and during the lunch break the AM field was broken into 3 flights, the cards re-shuffled, and the competitors sent back into battle to see who could put together two quality rounds and come out on top.
The burning question was whether Pro Division 1st-round leader Nate Speer could hold on to claim his first win in an RCF Pro/Cash Division. As you can tell from his expression in the picture to the right, he did, coming away with a commanding 5 stroke victory and what would be an impressive two round total in any conditions on this layout (56/57- 113)…congratulations on the big win, Nate!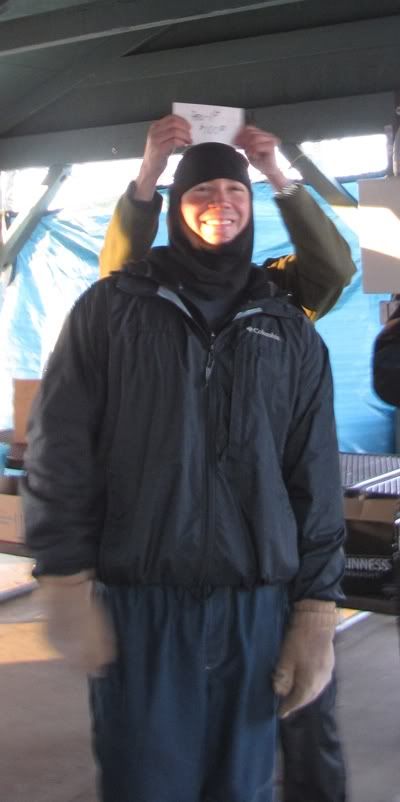 In the AM divisions, Vince Weber coasted to victory in the A flight and claimed his voucher to a hearty chorus of "Move up, bagger!". Perhaps the most spirited performance came from Jeff Junte, who in the 2nd round stormed back from the A flight's second card with an impressive 57 (7 strokes better than his Round 1 score) to finish in a comfortable second place. Jeff McCluskey was able to overcome his competition to win the B Flight, and Corey Campbell and Mike Reynolds shared honors in the C Flight…congratulations to all of the winners!
The "Tin Cup" Award, for the most strokes taken on the "Island Hole" (#13), goes to JB-regular Tony Winters. After emptying his own bag from the Drop Zone in Round 1, ol' "Tony Raw" dipped into card-mate Jim Misuraca's bag in his long, but finally successful, battle to land safely inside the circle. He ultimately carded a 21 for the hole and did it with a smile on his face…now that's what I call a "Massacre"!
Special thanks go to Tournament Director Mark Dudenhoeffer, Greg Dohogne, club-chef Corey O'Brien, Steve Klieber and Bob Waidmann who held down the fort at the pavilion, Jay Adams who helped with the layout design and getting everything ready on Saturday morning, and everyone else who volunteered to help make the Massacre happen.

Click here to see all of the Scores and Results from the Valentine's Massacre!


Here's some pics from the Massacre…click here for more!