---
1/6/12: The Dude Chronicles: Vol. 1

---
Local Disc Golf 'Legend' (just ask him!),
Jefferson Barracks
Course Captain, and all-around good guy Mark Dudenhoeffer enjoys playing quite a bit of disc golf. He also enjoys snapping a few photos while he's on the course. Between those obscene looking, but highly effective, forehand putts- known around JB as the "Dudie Putt" (perhaps it's 'Doodie Putt?'
) – and the pictures he takes…well: let's just say the man gets off some good shots! Hopefully, he'll be a regular contributor to this page and you'll be seeing more from
"The Dude"
in the future.
Our first installment covers The Dude's late December road trip to play a few relatively new courses just outside of the St. Louis area. Word has it that the group left the south side at 6am, and by the end of the day they had played 54 holes of golf and put a few hundred miles on the car. I can't identify everyone in the pictures (although i can identify at least one person NOT in the pictures…thanks for the call, guys), but it looks like a group of RCF sharp shooters headed south to go birdie hunting! *EDIT- The Dude has let me know that the group consisted of Greg Doh, Neil Brown, Doug Bickell, Greg "G-Man" Van Horn, and himself*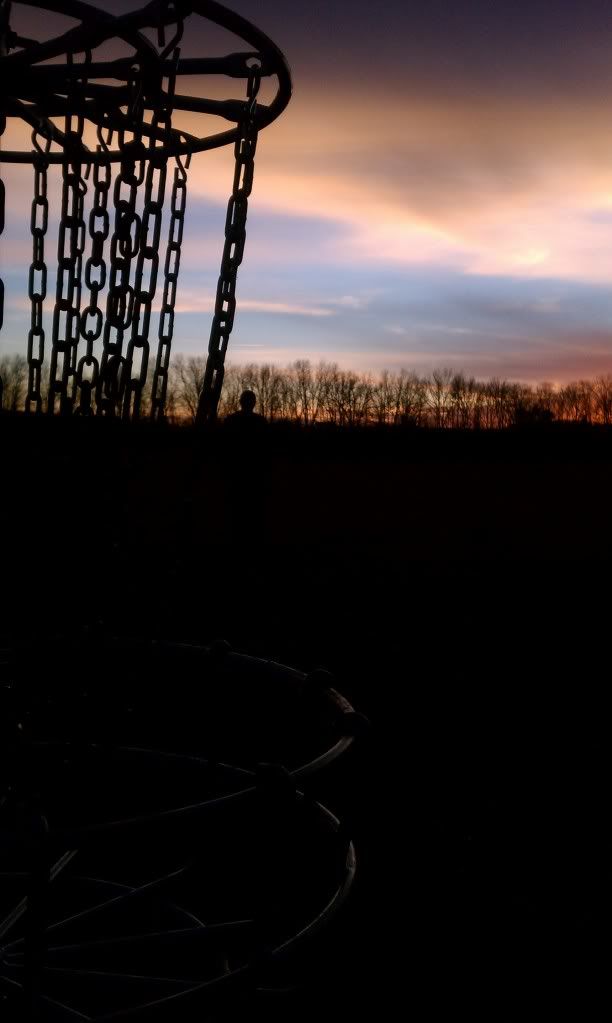 The first stop was the Lion's Club DGC in Rolla…you'll see some 'action shots' from what i believe is hole 11 in the slideshow. They then headed east to hit Potosi City Park located in, you guessed it, Potosi, MO. The last stop on the tour was the brand-new, Dave McCormack (Gateway Disc Sports) designed course in Farmington, MO. The course at Engler Park appears to be a beauty, with a good mix of open and wooded holes. If these pictures are any indication, it also looks quite picturesque as the the sun sets!
The Dude reports that the Lion's Club course in Rolla was his personal favorite but that all 3 provided a good test of golf skills, with copious water and OB hazards in play on both the Farmington and Potosi Courses. You can Click Here to see more photos from the Lion's Club course, or follow the links above to find out more on each course!


Where will The Dude go next? What pictures and news will he bring back?
Look for the next installment of "The Dude Chronicles" to find out!

(click here for more photos, or if you can't see the slideshow)