---
1/18/12: Ice Bowl Series Update

---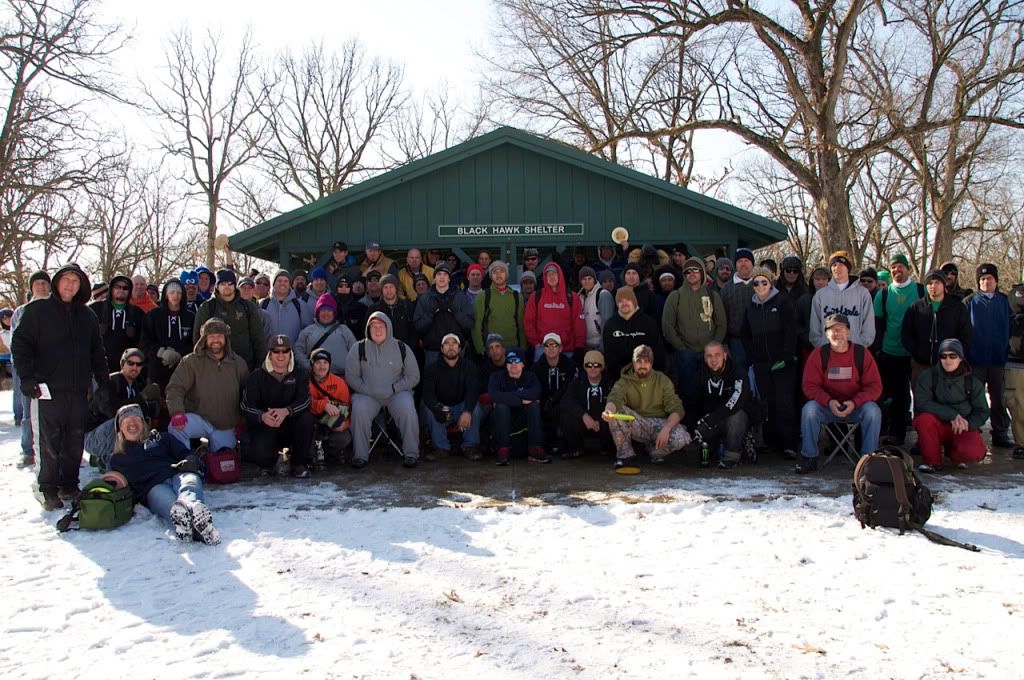 (click the pic for a full size version)
The first Two of the St. Louis Area's 5 Total Ice Bowl Series Events are in the books! Both the Creve Coeur and Jefferson Barracks installments were quite the success…here's a look at the numbers, and the action coming up:
92 golfers played the Creve Coeur event in balmy, 50+ degree conditions, with 79 making it out to JB this past weekend in the snow!
The Creve Coeur Event raised $1,313 and 430 lbs. of food for donation to the St. Louis Area Foodbank- the 430lbs. is a single-event record for an Ice Bowl donation in the St. Louis-Area!
The JB Ice Bowl raised $467 and 240 lbs. of food, bringing the current Series-totals to $1,780 and 670 lbs. of food…we're well on our way to breaking the 1,000lb. mark for food donations for the Series and setting a new record for the St. Louis Area!



Next Weekend (1/21), the St. Charles County Disc Golf Club hosts their Ice Bowl at Quail Ridge…click here to see the flyer, or here to be taken to the DISCussion Board thread for the Event.
The River City Flyers' Ice Bowl Series continues on 1/28 at West City…Bring your canned goods and your "big arm" down to Jefferson County Sharpshooters country!
The 23rd Annual Hazelwood Ice Bowl will be February 5th at White Birch Park…here's the flyer, and here's a link to the DISCussion thread.
You can find all of the scoring results for the RCF events here in the Ice Bowl Series forum thread
The River City Flyers are making up plaques for the winners of each division at our Ice Bowl Events…if you win your division, your personalized plaque should be ready for pick-up the next week

Here are the Divisional Winners for the 1st Two Events:
Creve Coeur:
Open: Nikko Locastro
Pro Masters: Philip Green
Adv. AM: Vince Weber
Int. AM: Atti Baz-Dresch
Rec. AM: Greg Kuehn
Women: Rebekah Kersey
Jefferson Barracks:
Open: Jerry Barklage
Pro Masters: Chris Kinsella
Adv. AM: Jhonny Lynn
Int. AM: Steve Fischer
Rec. AM: Kyle Metzler
Women: Rebekah Kersey

Here's some pics taken throughout the Ice Bowl Series…click here for more photos or if you can't see the slideshow

---